About Parnakuti
Come and rejoice with your loved ones and take with you a memorable experience that is sure to be cherished for a long time!
Welcome to Parnakuti, your quick getaway from hustle and bustle of daily life into the gateway of recreation, rejoice and rejuvenation amidst nature with your loved ones, your family and friends. An encompassing villa with a delicate touch of resort, Parnakuti is a place envisioned with this very purpose at its core.
Set on the outskirts of Nashik with an acre of land overlooking beautiful Gautami Dam water reservoir and panoramic valley view Parnakuti is unlike any other place in its category. Envisioned for a purpose and meticulously designed from ground-up on a location that is specifically chosen to do away with hustle and bustle of daily life and blend with nature. Too good to be true – that is exactly what we have aimed for!
Parnakuti has been constructed with opulent furnishings, enormous floor-to-ceiling windows that capture picturesque valley, vaulted ceilings constructed in rocks/stones that blend with modern interiors, divine antique pieces, aesthetically decorated bedrooms each with unique, hand-crafted tiles and heritage furniture, which make it contemporary but still give rustic vibe altogether.
There are six rooms, modern kitchen with essentials and verandah accompanying one spacious and finely crafted living room and dining section, all under one large roof. Steam, Sauna, Jacuzzi, Gym, Massage room, open air Swimming Pool (incl. minipool) with multi-cuisine offerings along pool deck, Wine cellar accompanied with bar, Children play area amongst lush green surrounding, Pet-friendly dedicated area, in-campus 5-car multi-parking with security, small landscaped lawn, are amongst host of the amenities that are sure to resonate with one and all. plantations adorn throughout the courtyard. Entire place has been designed keeping in view with natural and peaceful ecology.
Daily housekeeping by our ever beaming staff that will be at your service round the clock. They will be happy to assist you when you need them and discreet at other times. You are welcome to self-cook or bring along your cook. Serve and cookware, cooking masala will be at your disposal. A local cook can be hired on your behalf who can prepare village style dishes. Organic food and a special menu which includes Dal Bati, Bhaingan Bharta Party, Chula Mutton Bhakri, Chula Misal, etc. are available onsite. You can plan your menu beforehand that can be prepared by our cook. Since market is afar, you are encouraged to get some eatables alongwith.
Savour multi-cuisine meals. Gorge on desserts. Binge on drinks. Bask in the sun or lay lazy in pool or do both altogether. Take a walk in palm of nature. Enjoy beautiful and breathtaking sunset over horizon. Chit-chat and tittle-tattle with your loved ones. Engage in some fun-filled card and board games. Dance to the music, get engaged in some karaoke fun or indulge in some stargazing at night. Explore Shiva Temple closeby at Trimbakeshwar. Also Nashik city – land of temples and mythology is nearby. While at Nashik, take a tour at one of the vineyards out of many that lay there. These are just some of the activities to rejuvenate yourself!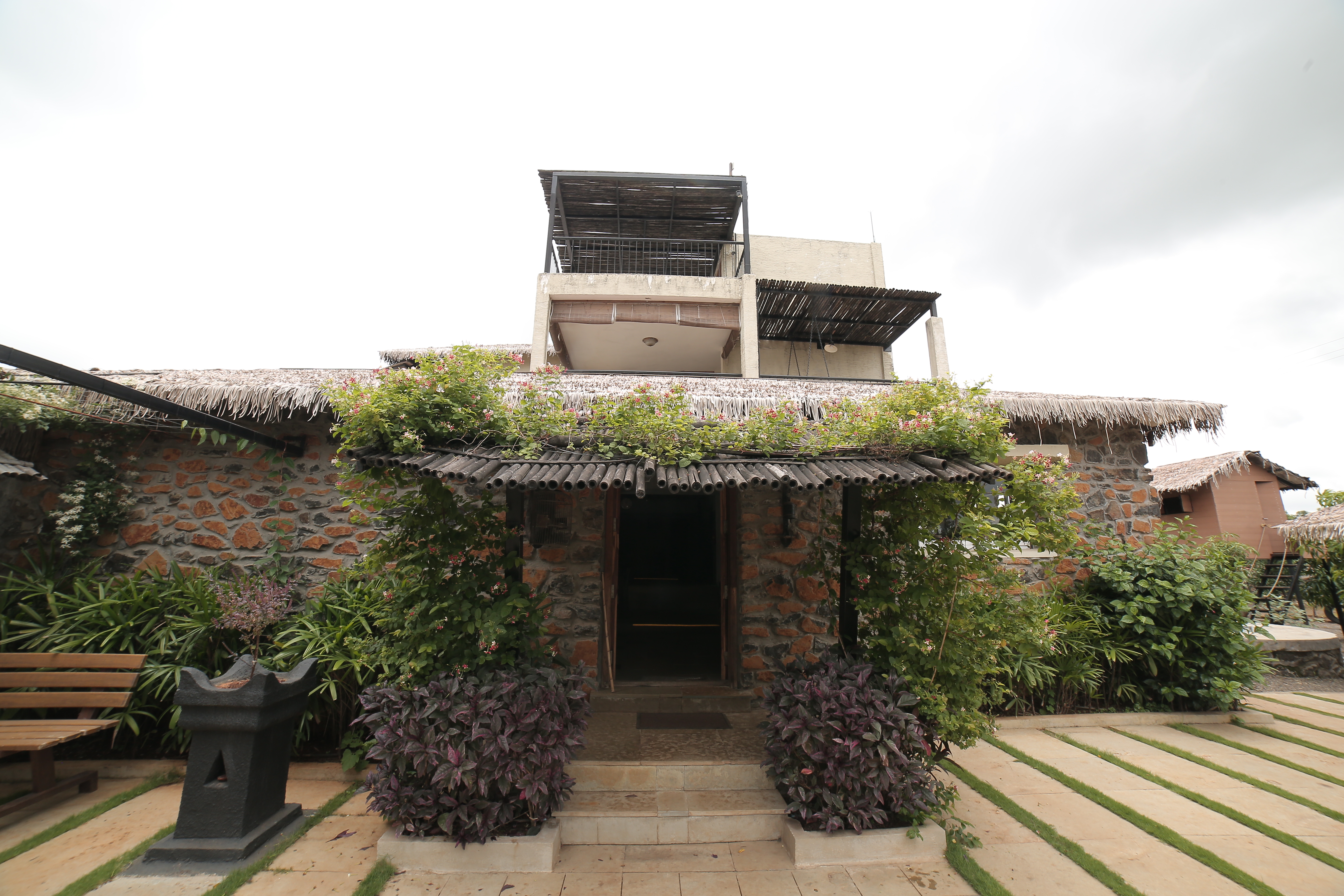 Whether you want to take an impromptu outing or plan a family weekend or surprise someone on their momentous occasion or just party with friends; Parnakuti is not only a truly delightful and unique place to be and spend your valuable timeout but also an Acer of Tradition!